The Ingredients Lab delves deeper into what's in our effective and scientific formulations, designed to give you the ultimate in skin confidence and liberation. Read on to discover more about our unique LaH6 complex…
Created by world-leading skincare scientists using cutting edge ingredients our unique LaH6 Skin Hydration Complex has gone through numerous efficacy tests in our laboratory to ensure it works at full throttle to help transform your skin.
Pure Hydration
Our skincare scientists create completely unique complexes to dive deeper into skincare and offer you effective treatments and solutions for your skin and body. As we know, the skin is our largest organ and just like we drink water to hydrate us internally, it's just as important to make sure that we are hydrating our body externally. We have one body and one skin, so treating it with the moisture it deserves is crucial to live a healthy life. Our LaH6 Skin Hydration Complex has been designed by our experts to lock in moisture and relieve your skin from intense dryness. LaH6 is a hydrating powerhouse, a supercharged concoction of six moisturisers to help relieve your skin from dryness, tightness and the rough, cracked appearance we all try to steer clear from.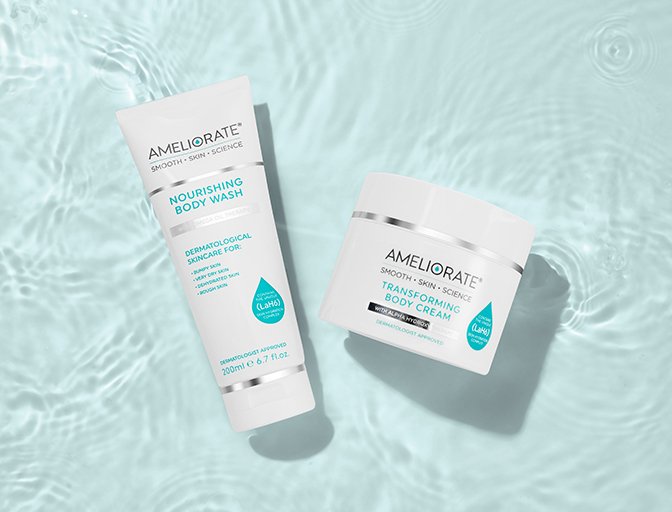 All our products, including the Nourishing Body Wash and the Transforming Body Cream, contain our LaH6 complex
What's in our LaH6 complex?
Moisturising Barriers
Our LaH6 Complex uses moisturising barriers at optimum levels to help stop water on your skin from evaporating. This strengthens the skin's natural protective layer to ensure it's 100% fit and ready to fight against environmental factors and everyday life.
Moisturising Humectants
Our LaH6 complex also uses moisturising humectants at optimum levels to draw water into the skin and hold it there. Locking moisture into the skin and keeping it there means you can ensure that your skin stays hydrated throughout the day. When skin is hydrated, it looks plump and healthy. Other skincare and bodycare you use will glide on and seep in better, and you'll see a new, natural vitality to your skin.
Our new Scalpcare range also includes the LaH6 complex to deeply hydrate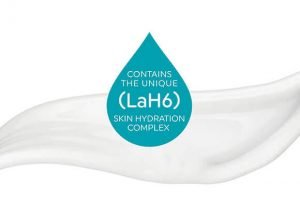 A Clinically Proven Formula
All Ameliorate products contain our LaH6 Skin Hydration Complex to ensure your skin is deeply and intensely hydrated. We believe in the science behind skincare; our experts carry out clinical trials and tests so that we can offer you hydration that goes further. We also work with dermatologists, the skincare specialists on the ground, to improve and develop our formulas. Transforming lives through skincare and offering products with proven results will always be what we strive for. LaH6 has been clinically proven to:
✓ Significantly increase moisture levels in skin for 24 hrs in our Transforming Body Lotion
✓ Significantly increase hydration for 12 hrs in our Transforming Body Cream
✓ Significantly increase moisture levels in skin for 8 hrs in our Smoothing Body Exfoliant
THE HYDRATION EDIT