When Friday's false-tan isn't budging and your elbows are cracking, the soap and loofah combination won't cut it. Your body is trying to tell you that it needs more. Our skin's cells are constantly renewing themselves, with the old, top layer of our epidermis shedding away to reveal the youthful, glowy cells beneath. However, sometimes our dead skin cells decide to stay put, sticking to the outer layer of our skin. These cells build up to create that scaly, dry skin we all dread. When no amount of moisturiser will nourish or brighten, it's time to assess your exfoliation routine. Is once a day too much? Once a week not enough?
Keep reading to discover how often you should exfoliate your body.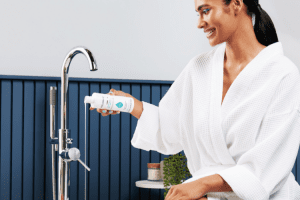 How many times a week should you exfoliate?
Skincare specialists regularly get asked the question, how often should we exfoliate our bodies? We know that our skin is delicate and we should be gentle with it, so it's no surprise when there's skepticism about regular exfoliation. However, exfoliating your body has come a long way from scraping the skin with lotions containing rough, pointy particles. Nowadays, there are ways how to use an exfoliating scrub that doesn't involve harsh shards that create micro-tears, gradually weakening the skin's barrier.
The weaker the skin's barrier, the more likely it is to become dry, showing patches of flakiness and redness. However, with the right, dermatologically approved product, most skin can be exfoliated 2-3 times a week without this concern.