We recently spoke to Megan McCreary, one of our dedicated customers, about how our transformative skincare therapies helped turn up her skin's confidence and help 'cure the Keratosis Pilaris on my legs'.
Megan McCreary, 34, is a Project Manager from Kentucky, USA.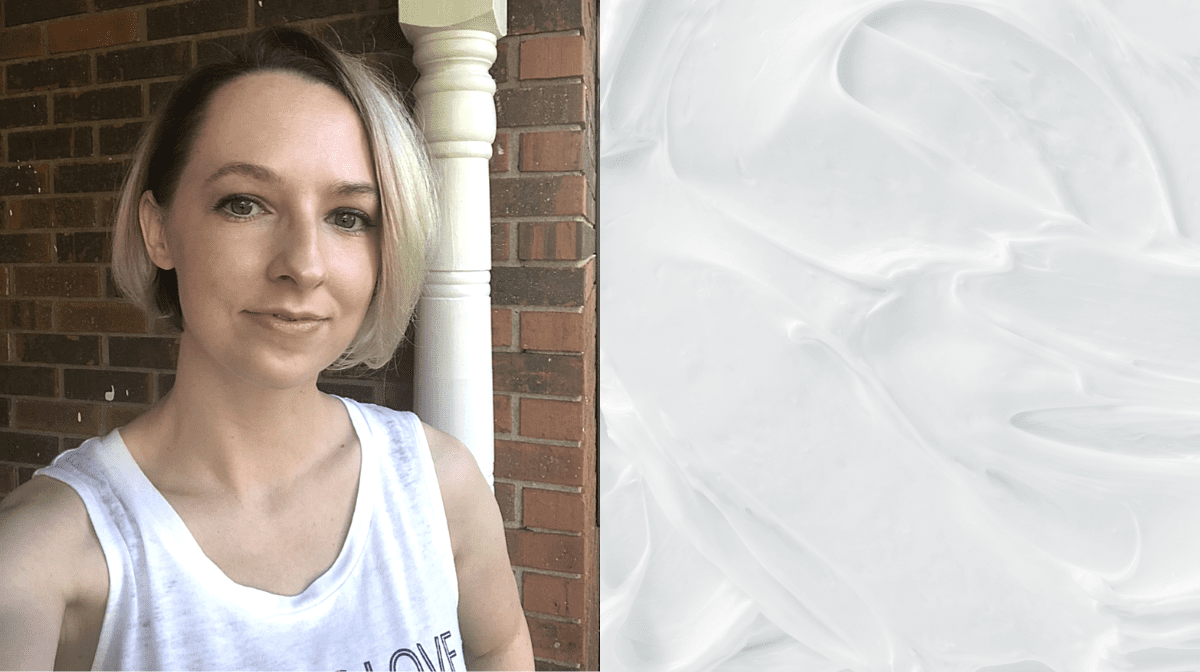 I First Heard About Ameliorate From…
Caroline Hirons!  I discovered Caroline at the beginning of our lockdown and was immediately hooked by her knowledge and delivery. She mentioned Ameliorate in one of her Instagram lives in regards to Keratosis Pilaris.  I trust her recommendations and immediately purchased the Transforming Body Lotion to help cure the Keratosis Pilaris on my legs, along with the Nourishing Body Wash, Intensive Hand Treatment, and Intensive Lip Treatment. I also joined her Skincare Freaks group and saw Ameliorate had a fan base there as well.
I Was Concerned About My Skin Because…
Because I have been covered in Keratosis Pilaris on my legs and hard, rough, red bumps for as long as I can remember.  It was so self conscious about how they looked that I never wore shorts or skirts until this year. I felt like I constantly had to keep my legs covered because the Keratosis Pilaris on my legs was so noticeable.  Shaving also irritated my bumpy skin on legs which added to the problem. My dry skin bumps on legs and rough texture went from below my knee up to my mid-thigh, so there was no way to hide it which resulted in me constantly keeping my legs covered.
Ameliorate Has Transformed The Keratosis On My Legs By…
It has made my skin smooth, hydrated and the redness is gone!  I'm still shocked when I see how different my legs look now.  I can run my hands over my legs and there is zero Keratosis Pilaris on my legs and I can shave without worrying about irritating my skin.  I've worn shorts this year without being concerned about how my legs looked to other people. And, since the cold weather has hit I've noticed I'm not getting dry patches that I normally get in the winter. I've seen so many amazing changes in just a short period of time.
My Favourite Ameliorate Product Is…
The Transforming Body Lotion is my favourite product but the Intensive Hand Treatment is a close second. The results from the Transforming Body Lotion make it a must have for me and I will always be re-purchasing! It has cleared-up my Keratosis Pilaris and keeps my skin hydrated during Winter. The  Intensive Hand Treatment is also amazing. I've been constantly washing my hands and using antibacterial lotion which has caused my hands to be extremely dry, cracked and my skin to peel at times. I've been using it at night and I always wake up with hydrated, smooth hands and no more sore, cracked skin!
I'm A Fan Of Ameliorate Because…
Because it works!  I've used countless lotions and acids over the years to help with my Keratosis Pilaris with no changes. I used Ameliorate Transforming Body Lotion and Nourishing Body Wash for less than 3 weeks and my legs were the smoothest they have ever been. I noticed a decrease in Keratosis Pilaris on my legs within the first week. I've also been able to maintain these results using the Transforming Body Lotion every night.
Being Confident In My Skin Means…
It means I can express myself in other ways and I don't have to hide who I am. I can be comfortable with myself.  If I want to chop my hair off, add brightly coloured highlights, or go makeup-free I can without being self conscious. I don't have to worry that people are looking at areas that bother me and make me feel insecure. Instead, I can draw attention to the areas I want. Being confident is an amazing feeling and Ameliorate has helped me achieve this.
Shop Megan's Favourite Ameliorate Products To Help Treat The Keratosis Pilaris On Her Legs