You know that silky smooth, fresh feeling you get after exfoliating? We all know that regular exfoliation works wonders and makes your your skin feel as good as new. But, what is the difference between physical vs chemical exfoliation and which version is right for you?…
Keep scrolling to discover the difference between these two common exfoliation methods, and why we use both physical and chemical exfoliants in our transformative skincare therapies for the ultimate in skin confidence.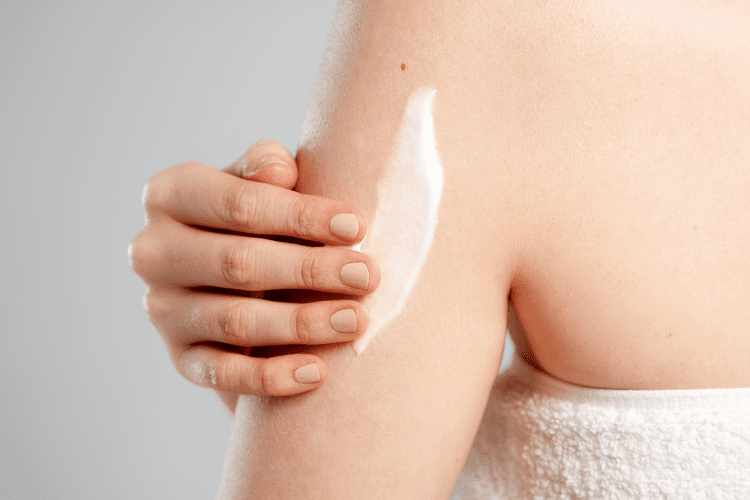 What Is Exfoliation?
First thing's first, let's give a quick refresh of what exfoliation actually is. Exfoliation is the action of removing dead skin cells from the skin's surface and can involve a chemical, grainy substance or an exfoliation tool such as a body mitt or brush.
Did you know that your skin naturally sheds dead cells every 30 days to make room for newer, fresher cells? However, sometimes these dead skin cells don't shed completely and this can lead to dry, flaky and dull skin. Exfoliating can help prevent this and gives your skin a little helping hand to reveal new, fresh and brighter cells underneath.
What Is Physical Exfoliation?
Physical exfoliation involves a method that requires manual scrubbing using materials such as exfoliating mitts, cleansing scrubs or dry brushes just to name a few.
However, you should definitely check the ingredients list of your physical exfoliants to make sure that the grains aren't too large or irritating as this can damage your skin and cause transepidermal water loss.
Avoid using ingredients such a fruit kernels/pits and nut shells as these may cause micro tears on the skin, which are little tears in the skin caused by sharp or jagged objects.
Physical exfoliation can be very beneficial on the skin, if done the correct way using the right products. Our Smoothing Body Exfoliant contains biodegradable Bamboo Granules, our iconic LaH6 Skin Hydration Complex and AHA's (we'll get to that later) to both physically and chemically exfoliate above and below the skin's surface and help smooth away KP bumps. Infused with Shea and Cocoa Butters, this is the best physical exfoliator for the body to slough away dead skin cells and reveal amazingly smooth, soft and hydrated skin that looks and feels healthier. As it is a physical exfoliant, we suggest using it 2-3 times per week, massaging onto dry skin before showering or bathing.