At Ameliorate, we're passionate about creating a world that includes more skin confidence and less waste. That's why we're so excited to finally introduce our brand NEW sustainable skincare packaging and manifesto to help us become a plastic neutral skincare brand and encourage a more eco-friendly way of living for everyone.
Recycling your beauty products doesn't have to be confusing. Read on to discover more about our new beauty recycling schemes and how we're helping to create a greener world through our sustainable skincare packaging. It's simple, fuss-free and will make you feel proud that you're doing your bit to help us protect the planet. 
1. Our New Recycling Scheme
We're making the process of recycling your beauty packaging a lot simpler with our new recycling scheme, RecycleMe. It's easy to use, free and can be done in just a few simple steps!
According to research, the beauty industry is dealing with a serious plastic crisis. Annually, more than 120 billion units of packaging is produced globally by the beauty industry of which about 79% is ending up in landfills or dumps. We want to help change this by creating sustainable packaging materials, and thanks to our recycling scheme you can now put your beauty empties to good use and help protect the planet at the same time.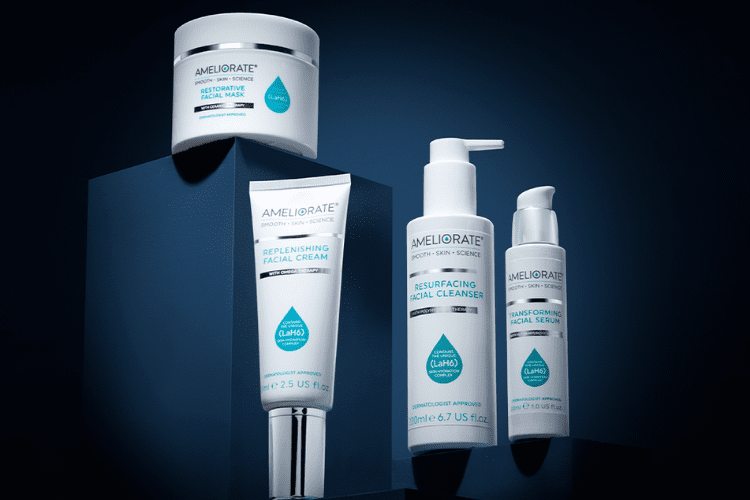 How Does It Work?
Step One: Subscribe up to our scheme by filling out the form, here! Once signed up we will send a unique QR code to your email address.
Step Two: Clean out your empty products and pop them in a shipping box, separate from unrecyclable Ameliorate products and other brands.
Step Three: Use your unique code to generate a returns code and drop your parcel off at your chosen courier point – how easy is that?!
Once you have returned your empties, they will be sent to our recycling team who will begin the process of recycling your beauty products into post-consumer recycled packaging for brand new environmentally friendly products and sustainable skincare packaging!
What Are The Benefits?
It's completely free: We will never charge you to use our recycling scheme.
You're contributing to a greener planet: You can feel proud and hopeful knowing that you're helping to create new sustainable packaging materials. What's more, is that you can enjoy using Ameliorate transformative skincare whilst also reducing your carbon footprint.
A simple process: Sometimes, it can be tricky to know how to recycle your beauty products. Our recycling scheme does all of the hard work for you, all you need to do is follow a few easy steps.
What Happens To The Recycled Products?
After the plastic waste has been collected and recycled into a raw material, it is then sold onto manufacturing companies who will complete the recycling journey. The final result includes end-products such as outdoor furniture, plastic shipping pallets, watering cans, bins, playground surface covers, athletic fields and a lot more!
2. Our Plastic Neutral Mission
We are so excited to have partnered with rePurpose Global, who are the world's first plastic credit platform that are passionately dedicated to reducing waste, restoring the balance within nature and changing lives.
Their ultimate mission is to help brands, businesses and people (like us) around the globe become plastic neutral. They do this by helping to empower pioneers and innovators on the forefront of fighting for the future of our planet.
What Is Plastic Neutral?
When a brand or business is 'plastic neutral,' this means that for every amount of plastic they create an equal amount of plastic waste is recovered and removed from the environment by a person, a company or a business through a plastic waste management scheme, like rePurpose Global.
However, it is very important to mention that plastic neutral does not mean that a brand is 'plastic free.' A brand who is plastic free does not use any plastic whatsoever in their supply chain.
Our Impact Project: Bogota, Columbia
At Ameliorate, we are helping to fund the collection of river-bound low value plastic waste in Bogota, Columbia that if left uncollected would continue to pollute our world and cause further destruction.
As a result of lack of economic incentives for the collection of recycling in Bogota, flexible plastics such as 2 HDPE and 4 LDPE are either burnt or destined for landfill.
How It Works
By purchasing Ameliorate products, you will be contributing to the collection of flexible plastics from the environment.
The waste workers will collect these flexibles from the environment, as well as from commercial and private establishments. They are then sent to a local Material Recovery and Recycling Facility and the plastic waste is then used to make 'Plastic Wood' that is first and foremost used for construction purposes.
About 10 to 20% of this 'Plastic Wood' that has been created will be used for constructing homes for marginalized waste workers that live in the community. The remains are then sold to construction workers and local contractors.
The Benefits
Apart from the fulfilling environmental benefits you're getting from contributing to the future of sustainable packaging, our impact project will help provide direct socio-economic benefits for these waste works and their families through providing a higher income from salaries and additional benefits from the sale of plastic wood.
Products Our Customers Are Loving