When it comes to skincare, there's plenty advice out there for the perfect routine. From reducing signs of aging to exfoliating away dullness, it's rare to find a skin concern without a step-by-step solution to it. Having said this, most of these helpful tips and tricks are aimed at women, leaving men slightly confused, overwhelmed, and missing out on the essential benefits of what could be, the best skincare routine for men. Have you ever walked into a shop, ready to try something new, only to be bombarded with far too many products and ingredients you've never heard of? It's a daunting experience, and we don't blame you if you decided instead to simply replace the empty bottle of your all-in-one trusty moisturiser.
Fear not, we've simplified the process for you. Here's Ameliorate's guide to the best skincare routine for men.
What men's skincare products should be in your routine?
Firstly, let's take a look at the five men's skincare products that should be in every man's routine.
How do you clean your face in the mornings and evenings? If the answer is with a splash of water or worse, with soap or baby wipes, then you need to purchase a cleanser, immediately. Cleansing your face is important to control excess oil and remove dirt that accumulates throughout the day. You may think you're accomplishing this using a bar of soap or baby wipes, but they will also strip away your skin's natural oils and throw off your skin's pH balance. In short, they can result in dry skin, redness and even premature aging.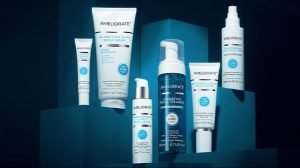 Following that, we have toners. If you have concerns about those tiny black holes on the sides of your nose or chin, toners are one of the underrated men's skincare products that can be your instant solution. The right toner can refine pores and sweep away those dry, dead skin cells that often fills them.