Warm those 

W

inter

 

blues

 

and nourish your skin with our new Limited Edition Warm Amyris Transforming Body Lotion

 for the ultimate in skin confidence…
Our award-winning Transforming Body Lotion has been given a cosy makeover this winter with the launch of our Limited Edition Warm Amyris Transforming Body Lotion. Charged with the same award-winning, iconic formula, this soothing body care essential offers deep hydration and gentle exfoliation alongside an uplifting new scent, to revive and warm the senses. Read on to discover more about Warm Amyris Transforming Body Lotion and why it's the perfect product to boost your Winter body care regime. 
A New Fragrance
A brand-new scent for Ameliorate; Transforming Body Lotion Warm Amyris bottles a warming, comforting fragrance that uplifts and comfort the senses. Top notes are infused with a blend of citrusy Bergamot and gentle Almond Milk, layered with floral middle notes of White Magnolia, Rose Petals and Oat Powder to lift any frosty feelings. Base notes of earthy Velvet Musk, Cashmere Wood and Warm Tonka Bean add depth to the fragrance to give a rich and grounding aroma. This innovative and comforting fragrance will immerse you in an uplifting scent that lasts all day long so your skin smells just as good as it looks and feels.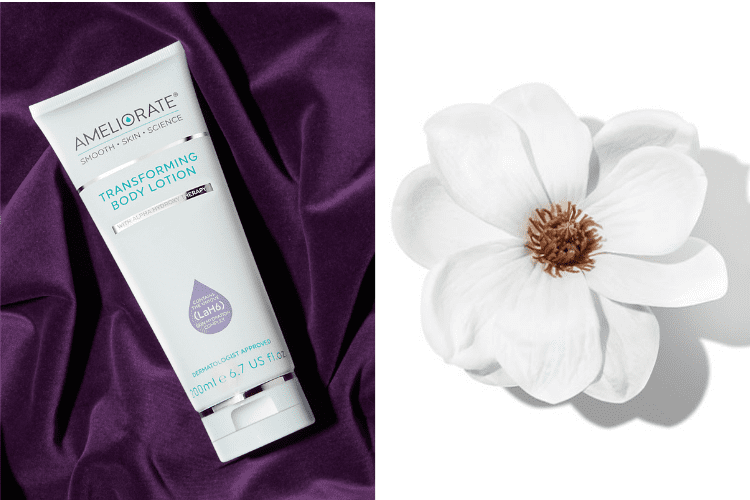 The Same Formula 
Not compromising on our best-selling formula, created by our expert skincare scientists, you can expect the same transformative results, now complemented with a warming, invigorating fragrance. Charged with optimum levels of lactic acid, combined with a naturally occurring AHA, this limited-edition Transforming Body Lotion exfoliates and renews skin cells whilst drawing moisture to the skin. Formulated with our unique LaH6 Skin Hydration Complex, this is the perfect lotion for treating all skin types including those with dry skin and Keratosis Pilaris. The complex's powerful active ingredients replenish and intensely moisturise the skin for up to 24 hours. The skin is further protected by Sweet Almond Oil, which enhances the natural moisture barrier, leaving skin feeling super smooth, nourished and soft.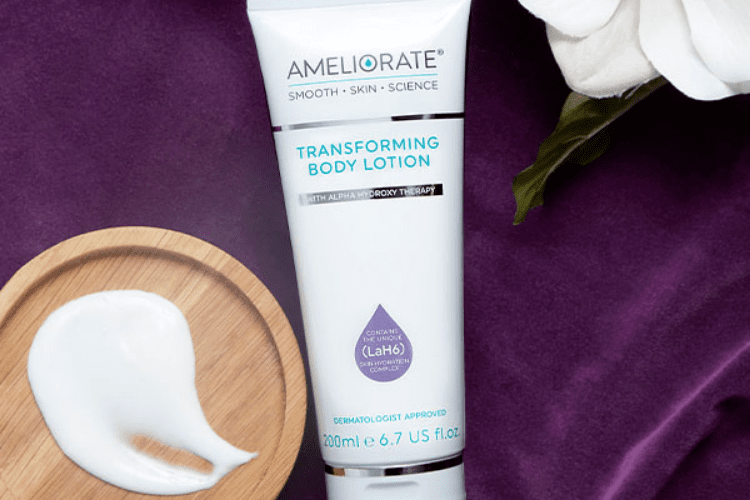 Proven Results
Clinically proven to significantly increase moisture levels in the skin for up to 24 hours

 

Improved the appearance of rough, dry, bumpy 'chicken skin'*

 

Improved the appearance of ingrown hairs

**

 

Softer, smoother, healthier-looking skin

 

87% agreed that the appearance of their skin had improved and felt softer and smoother

 
*Tested on 77 people with rough, dry, bumpy 'chicken skin' in a 4 week independent consumer trial
*Tested on 60 people with ingrown hairs in a 2 week independent consumer trial 
Our Uplifting Body Care Routine
In these chilly Winter months, your skin likely needs a little extra love and support. Cold weather can make your skin more prone to becoming dry and dehydrated, so maintaining a regular body-care routine is important.  
Use the Exfoliating Body Mitt on dry skin before jumping in the shower. Then, smooth the Nourishing Body Wash over wet skin in the shower until a rich, creamy lather appears. Rinse off, pat skin dry and apply Transforming Body Lotion Warm Amyris all over your body, making sure to wash your hands afterwards.