Introducing our NEW Transforming Body Lotion with a warm, musky fragrance to help rid you of the Winter blues…
Our bestselling Transforming Body Lotion has been given a woody, musky twist with this Limited Edition fragrance. Supercharged with the same dermatologist-approved, award-winning formula and our hero ingredient Lactic Acid in our expertly formulated LaH6 Skin Hydration Complex, this Winter Body Lotion with gentle floral notes is the perfect seasonal scent to transform your skin confidence this season.
Are you ready to let the festive transformation begin? Read on to discover why this Limited Edition Transforming Body Lotion is the perfect Winter body lotion to add to your seasonal bodycare routine…

What causes dry skin in Winter?
Dry skin is very common during the cold Winter months, due to the sudden drop in humidity levels outside. When the air outside is dry and cold, this can cause the water in your skin to evaporate more quickly, making your skin feel dry, tight and look flaky. Did you know that your skin loses more than 25% of its ability to hold moisture during Winter?
Some other common causes of dry skin during Winter include dry, indoor heating, long and hot showers or baths and dehydration. If you think you don't need to apply body lotion because your skin is wrapped up in warm Winter clothing (think knitted jumpers and woolly coats), think again. It is just as important to keep your skin moisturised in Winter as it is during the warmer Summer months or your skin can become itchy, flaky, dry and uncomfortable if you don't use the correct body lotion. But, we have solved that problem with our brand NEW Limited Edition Winter body lotion so you can combat dry skin and smell amazing at the same time.
A NEW fragrance
A brand new scent for Ameliorate, this Limited Edition Transforming Body Lotion contains a warming, woody and musky fragrance infused with powdery notes of Freesia, Lavender and Cashmere Musk to give your bodycare routine a festive refresh. Top notes are infused with sweet Freesia, Bergamot and Clementine blended with floral middle notes of Lavender, Pink Peony and Osmanthus. The warming, musky base notes of Tonka Wood, Cashmere Musk and White Amber adds depth to create a woody, powdery aroma. This cosy Winter body lotion will wrap your skin in a delicate, comforting scent that is perfect to help ward away the Winter blues and lasts all day long, so you can feel confident knowing that your skin smells just as good as it looks and feels.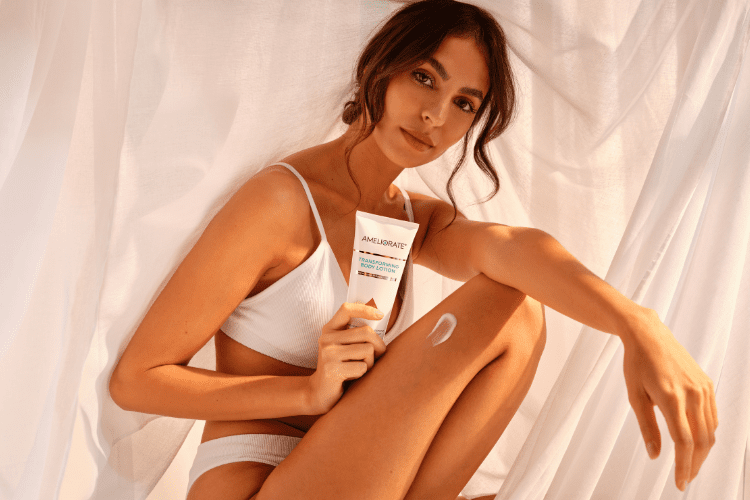 The same formula
Our new Limited Edition fragrance boasts the same iconic and dermatologist-approved formula as the original, created by our skincare experts and most importantly, loved by you. The only difference? The fragrance!
Charged with optimum levels of Lactic Acid, the hero ingredient in our iconic LaH6 Skin Hydration Complex and a naturally occurring AHA that gently exfoliates and renews surface skin cells whilst drawing moisture to the skin. This powerful, unique combination of ingredients combined with nourishing Sweet Almond Oil helps treat rough, dry and bumpy skin associated with Keratosis Pilaris as well as leaving normal skin amazingly soft and smooth. This easy to use body lotion will uplift and indulge your senses, whilst providing your skin with intense hydration and increasing moisture levels around-the-clock.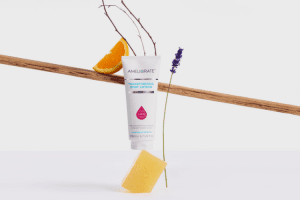 Proven results
Clinically proven to significantly increase moisture levels in the skin for up to 24 hours
Improved the appearance of rough, dry, bumpy 'chicken skin'*
Improved the appearance of ingrown hairs**
Softer, smoother, healthier-looking skin
87% agreed that the appearance of their skin had improved and felt softer and smoother*
*Tested on 77 people with rough, dry, bumpy 'chicken skin' in a 4 week independent consumer trial
**Tested on 60 people with ingrown hairs in a 2 week independent consumer trial
Our skincare scientists create powerful formulas to help you solve your skincare concerns. AMELIORATE's ingredients are all researched by experts and tested and approved by dermatologists to ensure effective results.
Your Winter bodycare routine
With the colder months approaching, it is very important to maintain a regular bodycare routine to help keep your skin hydrated, healthy and moisturised for a radiant Winter glow!
Start by using our Smoothing Body Exfoliant 2-3 times per week, massaging into dry skin before showing or bathing for optimum results. Next, lather Nourishing Body Wash onto wet skin until a creamy, rich lather appears. Rinse off, pat skin dry and apply this Limited Edition Transforming Body Lotion all over your body whilst indulging in the cosy, comforting scent. The perfect pamper session to help you unwind after the end of a long, busy and dreary Winter's day.