Is your skin looking a little lackluster lately? We've all been there. Recharge your radiance today and discover the key to a luminous complexion for unshakable skin confidence.
If you suffer from dull skin that lacks radiance, look no further. Read on to discover our powerhouse solutions for the best way to get radiant skin. Wave goodbye to dullness and say hello to glowing complexions.  
What actually is dull skin?
Dull skin refers to a lack of radiance or an uneven skin tone, unlike radiant skin which is smoother and more elastic, with a brighter tone and texture. Common signs of dull skin include dehydration, skin tone appearing darker than usual, dark undereye circles, and skin appearing less radiant than normal. 
What are the causes of dull skin?
Dull skin can affect the best of us. It occurs when the skin barrier becomes damaged, which can happen because… 
Dead skin cell overload:

 your skin sheds dead cells naturally on a regular basis to make way for your new cells, but sometimes those dead cells do not shed as they should. Occasionally, they can build up on the surface of your skin and this can result in skin that appears dull and dark. 

 

Dry skin types:

 dry skin can quickly start to take on the appearance of dullness. This is particularly true during the colder winter months.

 

Ageing:

 

as we grow older, our skin changes. Our natural cell turnover rate decreases, which can reduce the skins firmness, elasticity and moisture levels, ultimately leading to the appearance of dull skin.

 

Not enough sleep: 

your skin cells work to repair damage, refresh and renew while you sleep. If you are not getting enough sleep, this means that you are not giving your skin the time it needs to rejuvenate its radiance!

 

Too much sun exposure:

 dull skin can be a direct result of excessive sun exposure, as the sun draws moisture from the skin. This can result in dullness and discolouration.

 
What happens when my skin becomes dull?
When the skin barrier is damaged, your skin is unable to retain moisture and protect against external factors. Our skin quickly becomes dehydrated, meaning that the key enzymes involved in the natural exfoliation process are unable to function as effectively. This means that new skin cell turnover reduces in pace and leaves the skin looking rough, dull and congested. 
How can you treat dull skin?
To transform dull skin and restore its glow, you should simply give your skin a little extra love, by onboarding the following steps… 
Go gentle:

 avoid harsh scrubs and drying soaps that cause irritation to the skin. You should also avoid using hot water, and instead use warm water to cleanse the face and the body.

 

Exfoliate regularly:

 

to minimise dead skin cell build up, it is important to exfoliate a couple of times per week. This can help slough away dead skin cells, in order to reveal a brighter, more radiant complexion! Use a toner for a gentle chemical exfoliation, looking out for

ingredients such as AHA's, which gently loosen the bonds that hold dead skin cells to the skin's surface.

 

Moisturise:

 

choose moisturisers that contain ingredients such as shea butter, cocoa butter & almond oil to prevent dry skin and impart a soft, dewy look.

 

Invest in a serum: 

add a serum into your routine that boosts hydration and promotes skin cell renewal.

 

You should look out for ingredients such as hyaluronic acid to help smooth and plump, by binding water in the skin's most superficial layers.

 

Find a facial mask: not only do you want a facial mask that contains active moisturisers, but you also want to look out for AHAs and PHAs that support a healthy skin barrier, respectfully resurface the skin and stimulates its self renewal process to reveal the ultimate glow!

Get your beauty sleep:

 ensure you are indulging in a great night's sleep, so you can wake up feeling renewed and refreshed. This is important to guarantee you are giving your skin the time it needs to stimulate its radiance and firmness. You should sleep for approximately 8 hours per night.

 

Wear sunscreen daily:

 to avoid sun damage and maintain a smoother and more even skin tone, you should wear sunscreen daily.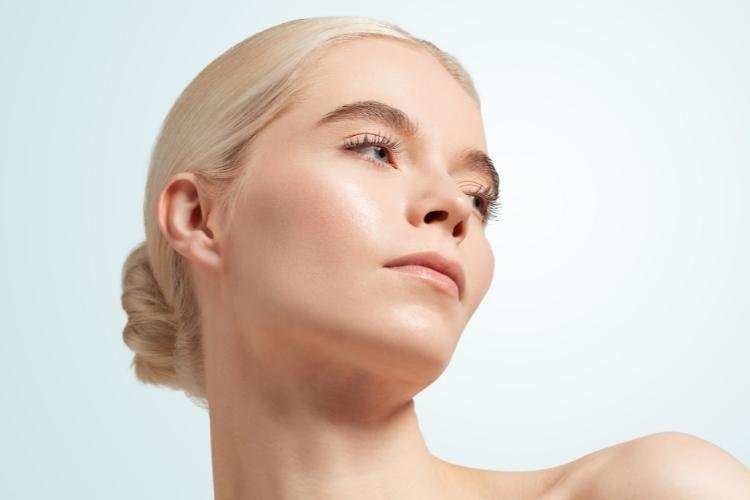 Your radiance routine:
Is your skin in crisis mode?  Say goodbye to winter skin woes and reveal your radiance with our NEW Resurfacing Facial Duo.
AMELIORATE Resurfacing Facial Mask: Turn up your glow and boost your skin's radiance with our NEW Resurfacing Facial Mask. This dermatologist-approved, radiance-reviving and intensive facial mask contains our most powerful resurfacing complex yet! Supercharged with the highest level of lactic acid in our facial skincare range, the mask quickly resurfaces skin to transform a tired, dull complexion into a radiant glow in only 15 minutes. Our double-action LaH6 Complex tackles dull, rough skin or uneven texture and is c

linically proven t

o

 significantly increase moisture levels in the skin for up to 12 

hours.*

91% agreed that the product left their skin looking brighter, fresher, and more radiant.**
AMELIORATE Resurfacing Facial Toner: Reveal a more radiant, refreshed and brighter complexion with our NEW Resurfacing Facial Toner. This dermatologist-approved formula has been created to sweep away dry, dull and dead skin cells to promote a more even, light-reflective complexion. This triple-action toner has been designed for daily use, to exfoliate, hydrate and resurface the skin for enhanced radiance – the ultimate choice for anyone looking to up their glow and turn up their skin confidence. Clinically proven to reduce and refine the appearance of pores*, 91% of people agreed that the toner helped their skin appear brighter and fresher.**
Much like the rest of our products, these new glow-givers are infused with our unique LaH6 formula, charged with 6 powerful actives to exfoliate and renew skin cells while drawing moisture into the skin, to reveal healthier, more radiant skin. What are you waiting for? It's time to get your triple-action daily-glow treatment! Want to take your radiance routine to the next level? Try these…