Treat those hard-to-reach areas of concern with our new, all angle Transforming Body Spray! Featuring a 360° nozzle spray delivery system, this exfoliating body spray is designed to reach every part of your body to exfoliate and replenish, leaving your skin feeling softer, smoother and more conditioned.
Read on to discover everything you need to know about our NEW exfoliating body spray, how to use it and why it's the perfect addition to your Autumn bodycare routine.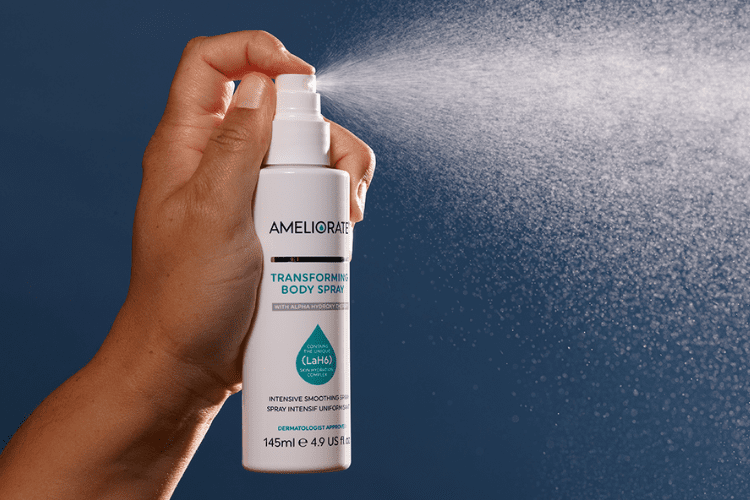 A NEW Convenient Application Method
A new delivery system for Ameliorate, our Transforming Body Spray is specifically designed to reach every part of your body. Gone are the days of struggling to moisturise those hard-to-reach areas, as our exfoliating body spray features a 360° nozzle delivery system that targets your entire body, giving you the confidence to wear whatever you like this upcoming party season!
Infused with our incredibly popular Orange Blossom fragrance, featuring a fruity yet floral fragrance that will help uplift and refresh your senses, enveloping your skin with an invigorating scent that lasts all day long so that you can feel confident knowing that your skin smells just as good as it looks and feels.
Fragrance Notes:
Top: Juicy Mandarin, Peach Sorbet, Plum
Middle: Orange Blossom, Delicate Jasmine, Solar
Base: Cashmeran, Creamy Woods, Velvet Musk

The Same Formula
New formula? Never! Our new exfoliating body spray is supercharged with the same iconic, award-winning and bestselling formula created by our dermatologists so that you can achieve ultra-hydrated and super smooth skin. This sprayable, touch-free solution helps avoid sticky fingers for super fast, easy and effective application on the go.
Expertly formulated by our skincare scientists with our hero ingredient Lactic Acid in our iconic LaH6 Skin Hydration Complex designed to treat rough, dry bumpy areas of skin associated with Keratosis Pilaris as well as effectively moisturising normal skin. This super effective, easy to use hydrating body mist both exfoliates, replenishes and leaves your skin looking and feeling softer, smoother and conditioned.

Clinically Proven Results
Clinically proven to significantly increase moisture levels in the skin for up to 24 hours
Improved the appearance of rough, dry, bumpy 'chicken skin'*
Improved the appearance of ingrown hairs**
Softer, smoother, healthier-looking skin
87% agreed that the appearance of their skin had improved and felt softer and smoother*
*Tested on 77 people with rough, dry, bumpy 'chicken skin' in a 4 week independent consumer trial
**Tested on 60 people with ingrown hairs in a 2 week independent consumer trial
Your Winter Bodycare Routine
As we enter the colder months, it's important to maintain a regular bodycare routine to ensure that your skin is hydrated and moisturised for a healthy Winter glow.
Start by exfoliating your skin with our Smoothing Body Exfoliant 2-3 times per week, massaging into dry skin before showering or bathing for optimum results. Next, lather our creamy Nourishing Body Wash on wet skin until a rich, hydrating lather appears. Rinse off, gently pat your skin dry and apply Transforming Body Spray all over you body, noticing how easy the 360° nozzle spray system allows you to each those difficult areas (your back). Indulge in the luxurious scent and notice how silky smooth, hydrated and replenished your skin looks and feels.