At Ameliorate, we know that everyone's skincare journey is different and that no two are the same. Our transformative skincare therapies are suited to all skin types, to help enhance your skin confidence no matter your skin concern.
We spoke to Ashley Lamberton @ashleysbeautybuys to ask her about her skincare journey and what skin confidence means to her. Keep scrolling to find out how Ashley's relationship with her skin has changed, what skincare advice she would tell her younger self and her current Ameliorate favourites…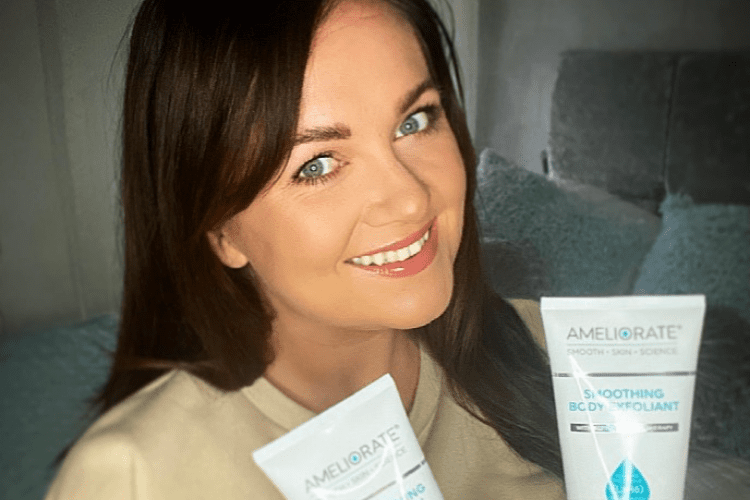 1. Firstly, Can You Tell Us A Bit About Yourself? 
My name is Ashley and I'm 32 from Scotland. Skincare and beauty has been a passion of mine forever. I suffer from acne and breakout prone skin with
Keratosis Pilaris
and Strawberry skin, particularly on the backs of my arms and legs.
2. Tell Us About Your Skin, How Would You Describe It?
Combination, sensitive and prone to breakouts.
3. How Has Your Relationship With Your Skin Changed Since The Beginning Of Your Skincare Journey?
I have definitely become more comfortable and confident in my skin as I've gotten older. This platform (Instagram) has some amazing people on all sorts of different skincare journeys and it's great to see us all coming together through our passion for beauty, skincare and self-worth!
4. What Is Your Daily Facial Skincare Routine?
I like to keep it simple: cleanse, tone, serum, moisturise and most importantly, SPF. If I could tell my younger self one thing it would be wear SPF50 every single day!
5.  What Is Your Daily Bodycare Routine?
Again very simple. I wash and moisturise as it's so important to hydrate your skin after showering. I like to use the
Nourishing Body Wash
to ensure my skin isn't being stripped by harsh soaps and chemicals. A few times a week, I'll also incorporate the
Smoothing Body Exfoliant
into my routine to keep my skin silky soft!
6. What Would You Tell Your Younger Self About Taking Care Of Your Skin?
Don't listen to other people's needs. Everyone's skin is different and what works for someone else may not necessarily work for you. You do you, always!
7. What Advice Would You Give To People Struggling With Their Skin Confidence?
You're not alone! I've been there and I know what it's like to be so self conscious about your skin. I've suffered on and off with acne since I was 11 years old and I still have days that I struggle with my skin confidence, it's only natural.
I try to use my platform on
@

ashley

sbeautybuys
to promote my bad skin days as well as the good, to ensure others can relate and not feel so isolated in this "perfect image" filled world of social media.
8. What Does Skin Confidence Mean To You?
To me, skin confidence means being happy in your own skin and being comfortable enough to accept that we all have flaws. We are all unique in our own wonderful way which is what helps make the world go around.
9. What Are Your Current Ameliorate Favourites?
This is so tough as I love every single Ameliorate product I've tried. If I was recommending anything to anybody it would be the Smoothing Body Exfoliant and the Transforming Body Lotion for sure. Working for the NHS, I also swear by their Intensive Hand Therapy as I use sanitizer countless times a day and this really helps bring my hands back to life!