New buzzworthy skincare ingredients are always being spoken about in the beauty industry. In recent years, cica has been snapped up by many beauty brands for its calming and soothing properties. But, where does it originate from and why do we love it so much?
Keep scrolling to find out what cica is, how it helps the skin and why we use it as a key ingredient in our Replenishing Facial Cream…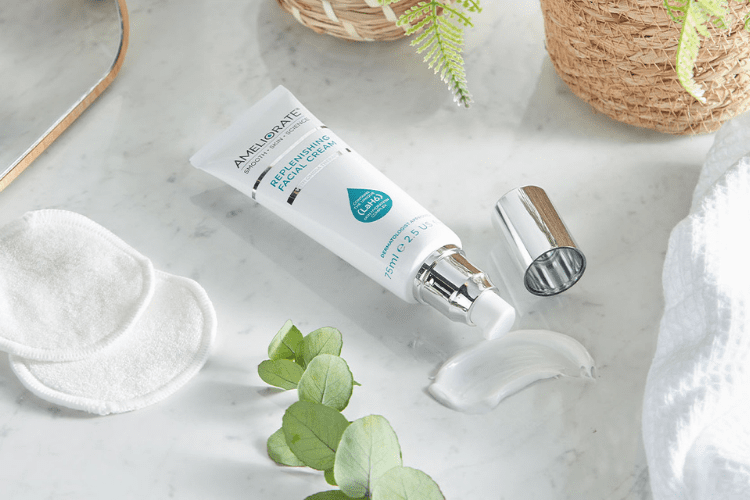 What Is Cica?
Short for 'Centella Asiatica', cica is a herb that is native to parts of Asia and Africa that has been used for nearly 3,000 years to help speed up wound healing and to reduce skin inflammation. Cica can also be referred to as 'gota kola' or 'tiger grass' and this luscious green plant is favoured by the animal kingdom as tigers rub it on their wounds to help their skin heal and regenerate.
Nowadays, this soothing ingredient has been favoured by skincare brands in moisturisers, serums and cica creams to help restore and repair compromised and irritated skin as well as helping to calm sensitive skin.
What Are The Benefits Of Cica Skincare?
Chances are, no matter your skin concern or skin type, cica can probably help you in some way as it can provide you with what seems like an endless list of skincare benefits. It is packed-full of amino acids, fatty acids, beta-carotene and phytochemicals such as vitamins A, B1, C and B2.
Together, this combination of skin-loving chemicals can help to stimulate the production of collagen because they are loaded with antioxidants and are anti-inflammatory when applied to the skin which can help firm, repair and even help treat breakouts.
Additionally, cica can also help increase skin firmness and fight premature ageing, wrinkles and age spots by protecting the skin against the damaging affects of pollution.
Got dry and dull skin? Cica can help you out here too as it helps to brighten the skin, boost circulation and increases hydration in the top layer for skin that feels super moisturised, calm and collected. Is there anything that cica can't do?!
The Best Cica Face Cream
Want to increase moisture, nourish and smooth the appearance of fine lines? Our Replenishing Facial Cream is supercharged with powerful actives including cica to soothe and protect the skin whilst boosting moisture levels. This daily cica cream helps keep skin feeling protected from environmental aggressors and is loaded with our unique LaH6 Skin Hydration Complex, Omega Therapy, ceramides and hyaluronic acid to deliver instant an long-lasting hydration to protect, support and calm dry and sensitive skin. Clinically proven* to significantly increase moisture levels in the skin for up to 12 hours, this is the best cica cream that reveals brighter, radiant and youthful looking skin that is more supple and elastic.
*Independent clinical trial
How To Use:
Apply to the face and neck every morning and evening after cleansing.
Your Soothing Skincare Essentials