Why is scalp care important?
If it feels like there has been an explosion of products in the haircare market that are designed to target the scalp, then you are not alone. It can, at times, feel slightly overwhelming. Particularly if you are new to having scalpcare concerns or taking your haircare routine a little more seriously.
The first thing to remember is that scalpcare is skincare. Your scalp is just as prone to skin concerns as the skin on your face and body. If you are reading this blog, you obviously care about your skin's health, and you should care just as much about your scalp.
At Ameliorate, we believe the healthiest hair starts with great scalpcare. As the foundation for future hair growth, it needs to be taken care of with optimum ingredients which promote scalp health.

How do I know if my scalp is healthy?
Any healthy scalp should be free of itching, burning, bumps, excessive oiliness, excessive dandruff, and hair loss. These symptoms of an unhealthy scalp are a sign that you need to change your haircare routine.
Note: if these symptoms start to have a detrimental effect on your quality of life, please seek medical advice.
What can I do to improve my scalp health?
There are multiple ways to improve the health of your scalp. Switching to fragrance free and gentler products can have a massive impact on your scalp health overall. An expert Trichologist* boasting over 20 years' experience in the industry has endorsed all the Ameliorate Scalpcare range.
Aside from switching products, massaging the scalp as improves blood circulation in the area, which promotes the growth of healthy new hair. Massaging your head every time you wash your hair can make a big difference. Using the tips of your fingers, massage your scalp in small circular motions, being careful not to pull your hair. Then, keep massaging until you have covered every area from the nape of your neck to your hairline.
Some basic steps can also make a big a difference, such as getting your hair cut regularly, and reducing the use of heat can help improve your scalp health. Additionally, maintaining a healthy diet and staying hydrated can make such an impact on your scalp and skin health overall.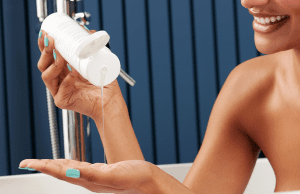 What can Ameliorate do for my scalp?
Every single product in our scalpcare range is designed to rebalance and increase moisture in the hair and scalp. When used as part of a daily haircare routine, our products maintain optimum scalp health if you suffer from dryness, itchiness or flaking.
Our Soothing Scalp Care Range leaves your scalp feeling soothed and moisturised whilst giving you softer, smoother, and healthier-looking hair.
Remember to use all tools available to keep your hair in its best shape. Ameliorate is proud that our complete range takes care of your hair from root to tip.
*Our affiliated Trichologist qualified with the Institute of Trichology in 1992 and is a member of The Institute of Trichologists.