Last Updated:
22/06/2023
A Few Of My Favo

urite Thi

ngs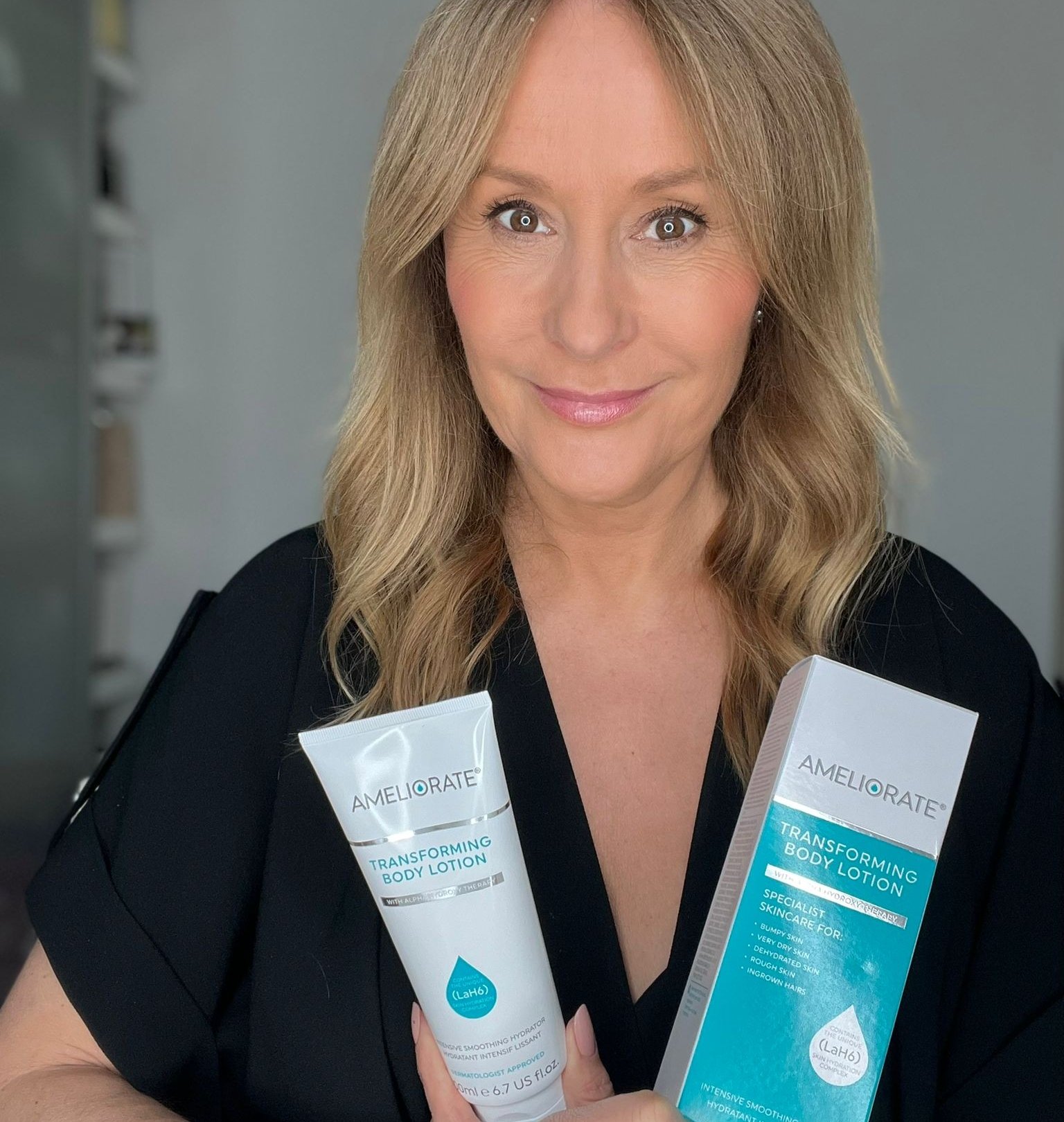 As I am a Brand Ambassador for one of my all-time favourite brands, Ameliorate – I thought I would just share some of my all-time favourite products from the brand. Just last week in The Times I was championing Ameliorate, this time to remind my readers that the Illuminating Glow version of the iconic Transforming Body Lotion was perfect for a two in one quick fix for pasty, dry limbs when the sun, eventually, comes out in the UK. But just to remind you all here is a list of my favourite products to prep your skin for the spring and summer days ahead.
Transforming Body Lotion, the original and best body lotion there is. Loaded with gently exfoliating lactic acid and six hydrating humectants and emollients nothing will transform dry, scaly, winter weary and red bumpy chicken skin faster than this. I personally sleep in it overnight so it can really get to work. The amount of friends who thank me for this recommendation is incredible. Ps that includes some famous faces I have met through work as well as beauty editor friends who simply couldn't believe that a body lotion could perform so well and to truly transform their skin

 

Nourishing Body Wash, super gentle, super moisturising this is what I use in the shower the morning after I treat my skin with the body lotion. It's gentle enough to use all over and gently cleanses but respects your skin's pH and barrier function.

 

Exfoliating Body Mitt, this is my must have in shower to tackle dry elbows, knees, bumpy bottoms and thighs and even rough skin on my feet, simply because sometimes your exfoliated skin needs a little helping hand to be sloughed off. This is so well designed and easy to keep clean. Ps it also works to remove old self tan if you have over done it or applied it a little patchily.

 

Transforming Body Lotion

Illuminating Glow

Edition, you have to try this to believe it because in spring and summer this is my go-to daily body lotion. Why? Because it has all of the goodies and skin exfoliating and skin smoothing ingredients of the original lotion but with added hint of a tint, soft focus skin glow particles. It doesn't transfer to clothing and is like the perfect pair of ten denier super fine tights in a bottle. Fabulous stuff.

 

Intensive Foot Therapy,

and just a reminder that lactic acid and the LAB6 concoction of hydrators and exfoliating ingredients works just as well on super dry and cracked feet and heels too. So, if you have neglected your feet in winter and suddenly look down in horror at the thought of wearing sandals, simply apply this for a week every night, pop on a pair of cotton socks to really help it to soak in and then rub the body mitt or a foot file over your feels in the shower. I promise you this works so well and combined with a bright toe nail paint is all you need for summer sandal feet.

 
Have a great spring and summer. 
Last Updated:
22/06/2023
Nadine 
@nadinebaggott on Instagram, Youtube and Twitter where I answer all of your beauty questions.